For the past two summers, youth workers have been employed by the Anvik Tribal Council under the IGAP grant. The name they were given was Youth Environmental Tribal Interns (YETI's). YETI's start work in June of each year and end in mid-August.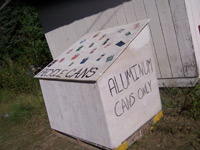 YETI's do a variety of tasks to help the environment such as; helping out the elders with hauling trash and water, emptying garbage barrels around town, constructing big wooden boxes used for recycling, and crushing and packing cans for shipping. Money that is collected from recycling will go towards the teen center.
The IGAP Program collects e-goods (electronics such as microwaves, TV's and stereos) and white goods (freezers, fridges and stoves) from around town. These items are packaged and put on pallets to be shipped out on the barge.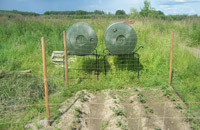 During Summer 2007 Youth Workers dug a community garden, hung signs at the riverbank, dump and sewer lagoon, and have conducted dump clean-ups every few weeks, fixed the riverbank lean-to and made benches at the rivers edge for people to use to view the river. Workers cut a large amount of grass and willows around town, focusing on blind spots that are a potential danger to motor vehicle operators and pedestrians.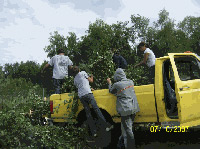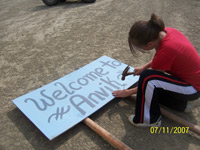 Road signs were designed, painted, and placed at intersections. The Anvik Tribal Council's IGAP Program once again participated in the Yukon River Inter Tribal Watershed Council's (YRITWC) backhaul program and backhauled a variety of old junk vehicles that can be recycled such as; old boats, old three-wheeler frames, old four-wheelers and old snow machines.
YETI's attended the YRITWC annual summit at St. Mary's from August 9th - 13th, 2007 and enjoyed their time spent there. Those that attended the summit, positively expressed the amount of information they learned.
The Environmental Office has gotten a lot of nice compliments, from the community, on what a great job the youth have done. It hasn't gone unnoticed that kids involved in the YETI program have stayed out of trouble. Youth workers, employed during Summer 2007, were supervised by Environmental Assistant Roseanne Kruger.